In my recent columns and blogs I said that the dangerous drug's war of President Rodrigo Duterte have continued to be successful by citing those villages, towns, cities, and provinces where narcotics trade and usage have declined significantly.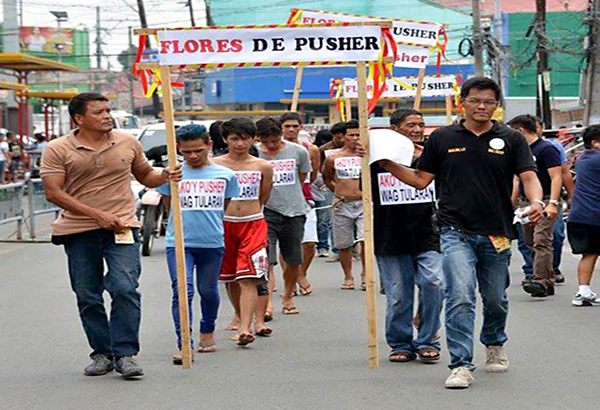 11 drug suspects take 'walk of shame' in Batangas. Photo Credit: Philippine Star
Presently, a city with 32 barangays (villages) in Northern Luzon has one barangay left to be cleared to be called 100 percent drug's free.
"What if narc pushers and users returned to their old ways, who would declare those villages no longer drugs' free," I posed to the chiefs of police of a city and a first class town.
The duo told me that monitoring and revisiting those illegal drugs free villages are the measurements they are going to use to know that those villages are soiled by enterprising illegal drug pusher and returning user.
Dagupan City's chief of police (COP) Superintendent Neil Miro told me that the Philippine National Police would revisit and check the drug- free declared barangay if pushers surreptitiously sneaked –in with their nefarious trade and user who patronized the illegal substance.
"Iyan ang dynamic character ng drug free. Parang damo iyan. Pinutol natin iyang damo pag hinde ma monitor iyan may tutubo at tutubo. Gaya doon ang illegal drugs. Continuous monitoring iyan hinde ibig sabihin na na clear na natin iyong isang barangay," he stressed.
Presently Dagupan City has 28 drug free villages out of 31 barangays.
Superintendent Charles Umayam, the COP, of neighboring Calasiao town cited that he and his men continue to monitor and get feedbacks from the stakeholders in the villages if narcotics sellers and drug users return to their trade and vice.
Calasiao has two more villages to be declared narc free out of her 24 barangays.
Umayam said that declaring a village to be drug free undergoes a series of processing.
"Andiyan po si mayor saka iyong BADAC, barangay officials, chief of police kasi ang pipirma doon," Umayam cited.
He said before the mayor and the chief of police declare a village to be drug free it should be cleared first with the Barangay Anti-Drug Abuse Council (BADAC).
According to the Department of Interior and Local Government's Memorandum Circular No.2015-66 BADAC is composed of

P

unong Barangay (village chief) as chairperson, Sangguniang Barangay (village council) Member – Chairman On Committee Of Peace And Order as vice chairperson, Sangguniang Barangay Member – Chairman On Committee On Women And Family, Sangguniang Kabataan Chairman, School Principal (Public, or Principal of any school present in the barangay), Tanod Chief / Executive Officer, Representative of a Non-Government Organization or from Civic Society, Representative of a Faith-Based Organization (i.e. Ugnayan Ng Barangay At Simbahan or UBAS, or any church-related organization as members.
Umayam added that before a town can be declared to be dangerous drugs free, it should be declared by the Municipal Anti-Drug Abuse Council (MADAC).
He cited that the COP continues to monitor the illegal activities related to these illegal substances through their intelligence officers if the drug free village is indeed narcotics free
When I asked Umayam, a graduate of the Philippine National Police Academy just like Superintendent Miro, if the village chief, the BADAC, the COP, and the mayor conspired to make the barangay drug's free and look good before the eyes of the public, Umayam told me that it could happen.
But he said it could not happen under his watch.
"Meron siguro pero sa amin ginagawa ngayon, iba rin kasi ang perception ni barangay captain doon sa nakakakita niya (inaudible) tapos kami ang nagba-validate, mino-monitor namin kung ano ang sinasabi talagang clear na doon through our intel".
With all those answers from the two officers that could probably be the reflection of COPS' retort all over the country, you readers be the judge if the war on drugs of the Duterte Administration would succeed without those residents of those narcs free villages returned to their illegal activities.
(You can read my selected columns at http://mortzortigoza.blogspot.com and articles at Pangasinan News Aro. You can send comments too at
totomortz@yahoo.com
)