During the official visit of the Philippine president to Japan, radio listeners and Face Book Live Feed's viewers were treated this morning about my narration with co-anchor Harold Barcelona on my nephew (father was Japanese) who was anointed by Japan Emperor Akihito to be the lead samurai or powerful military caste of the Imperial House or Koshitsu of the Nippon.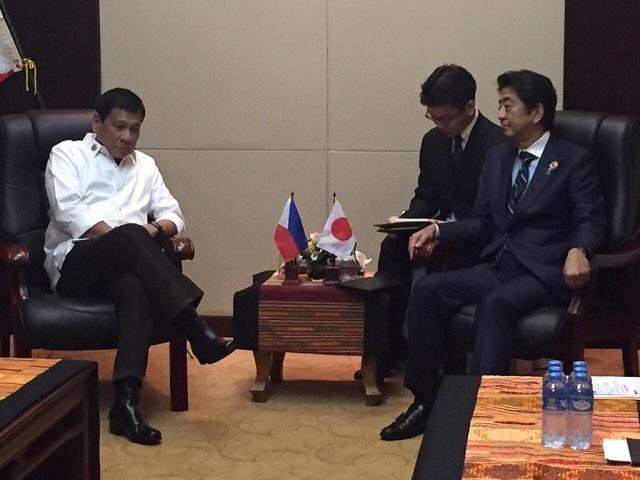 JAPAN VISIT. Philippine President Rodrigo Duterte and Japanese
 Prime Minister Shinzo Abe. Photo Credit: GMANetwork.com
Here's what I told Harold when I went in 2014 with my nephew at the Koshitsu for the contest where my nephew Maraki Akin-ari, 21, was pitted with contestants from Tokyo and Nagasaki about their quickness and deft in handling a samurai's sword.
When Akihito threw a fly above, the Tokyo guy unleashed his sword and struck the fly by slicing it into two pieces. 
Spectators applauded.
When the Sun-God of Japan, threw a fly above, the Nagasaki guy rapidly hammered it twice with his sword and the fly was sliced into four pieces.
When it was the turn of my nephew who grew up in Tondo and not Tokyo as previously described by the media, the Emperor threw the fly above and Maraki Akin-ari attempted to hit the fly  20 times but to no avail. The fly still flew and nagalit si Akihito.
"Wala kang kuwentang Samurai, 20 times mong tinaga ang bangaw, walang nangyari. Hindi ka puweding maging Lead Samurai dito sa Imperial Palace," he chided my nephew.
My nephew whom I trained, during our drinking spree with Kuatro Kantos, on the Art of Reasons emphatically told the Emperor in Pilipino that was immediately translated into Japanese:
"Mahal na hari, hindi ibig sabihin na sa 20 times kong pag hampas ng espada ay pumalpak na ako. Kumuha kayo ng microscope o magnifying glass para makita ninyo kung paano ko tinuli ang langaw".