By MORTZ C. ORTIGOZA
AIR FORCE ONE
Eye strained by the lights of my laptop but could not sleep the other day, I snatched a book by Dan Rather with Mickey Herskowitz's
"The Camera Never Blinks Twice (The Further Adventures of A Television Journalist)
" from my book shelves to spend the night to get a doze. To the younger generation who are preoccupied with Candy Crush Saga and Double Down Casino at the internet Rather is the equivalent nowadays of U.S TV broadcasting icons like Bill O'Reilly of Fox News TV or the less superior Anderson Copper of CNN (Cable News Network, not Caloocan News Network).
"Parang si Noli de Castro or Mike Enriquez kung sa Pilipinas?," butted and posed by my errand boy Procopio Matulis who could not get a sleep in his "dog house".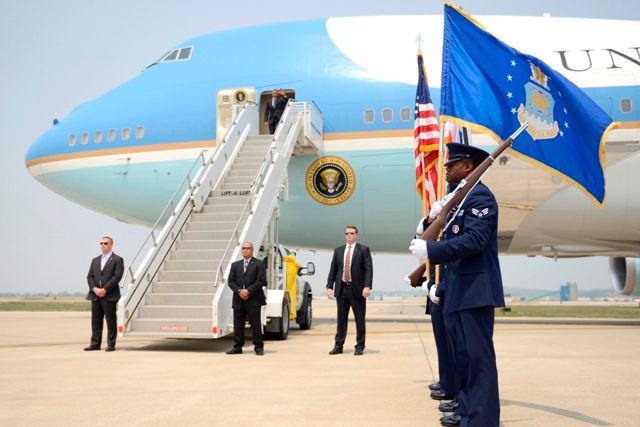 AIR FORCE ONE is a converted Boeing 747. The other plane that accompanied the Air Force One is a Boeing 707 or what Dan Rather called the "Zoo". It hauled reporters that join the presidential trip. Rather was not sure if reporters
really smoked pot in the "Zoo".
"Noli de Castro, Mike Enriquez, sino iyon? Bakit mo sila ikino kompara kay Rather?" I stoically posed too at my jack fruit faced gofer.
I was laughing like crazy on my bed reading Chapter 12 (The Accidental Tourist) when Rather, because he chose to go with fellow "good" Newsday reporter Marty Schram in a "god-forsaken" county, er, village in Belgrade to drink a Yugoslavian native liqueur,a plum brandy whose name in Serbo-Croatian  means in English"Paint Thinner" instead of attending a boring presidential ball hosted by Marshal Josip BrozTito (dubbed as communist bad-boy to Kremlin ) to the entourage of U.S President Richard Nixon, was left by the Air Force One in the Communist country.
As a result of the lethal kicked of the "paint thinner" poor Dan Rather baby was left by Air Force One, arrested by the Yoguslav's version of the KGB, jailed, released, and was whisked by a concerned native to a chartered British two propeller powered airplane for London, and the rest was an amusing history for a media man to share to media guys in and outside the U.S.