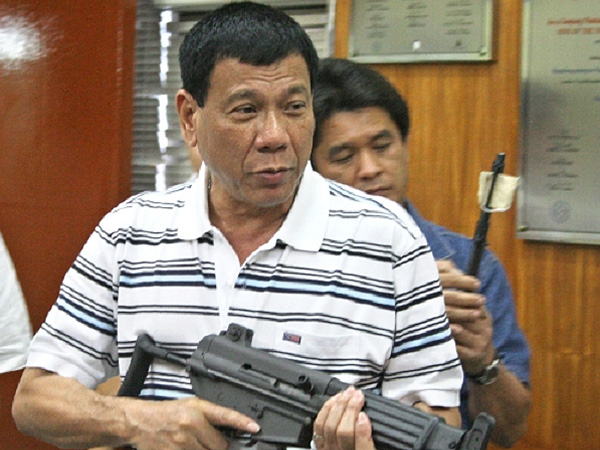 Controversial Davao City Mayor Rodrigo Duterte
Hindi ko maintindihan itong end game ng China, iisa lang ang aircraft carrier na obsolete pa (from Ukraine) versus 11 big carriers from the United States. Tapos more than 1000 kilometers ang layo ng Mainland China sa Spratly, so for me it would be expensive sa mga fighter jets nila because of the lengthy flight .
 It would be deja vu Lufwaffee (German Airforce) whose jets became shooting ducks from Great Britain's airplanes in World War 11 since they have to have that hair raising trips sa English Channel. Or Falkland War  in 1982 like those U.S made A-4 Sky Hawk jets ng Argentina obliterated on the air by the British Harrier jump jets. Kung nuclear war, sigurado matutunaw ang Mainland China and ma preserve ang U.S mainland kasi wala pang capability ang China to launch her Inter Continental Ballistic Missiles (ICBM) to the U.S. But people in Palawan and Pangasinan and even in Australia are vulnerable to the Chinese nuclear capable Russian made Xian H-6K jet bombers that could kill all if not most of the people in these areas.
Son of a gun, calling for the Aegis' Anti Ballistic Missiles Defense System on warships and anti- warheads Patriot missiles of the Americans!
After Presidential material Senator Grace Poe breathes like an albatross at the back of the neck of controversial presidential wannabe Vice President Jojo Binay as based on Poe's phenomenal survey spikes, the Binay's camp had been witch hunting Poe as not qualified to become a candidate for the No.1 Office. Their arguments anchored on the senator renouncing her Filipino citizenship by becoming a U.S citizen before thus he disenfranchised herself to become a natural born citizen. 
 Natural born is a requirement if ones run for Congress, Vice Presidency, and the Presidency.
While 
Cesarean Born, er, Naturalized Citizen are for those who want to run for the elective  posts in the local government units.
But Poe's supporters had been citing then Pangasinan Congressman Teddy Cruz, best friend of my media colleague Harold "The Bagman" Barcelona, Case to thwart the arguments of Poe's critics.
The case of then Congressman Teodoro Cruz, a former U.S Marine, however was covered by Commonwealth Act No. 63 when he lost and acquired his natural born citizenship thus he remained a congressman. Cruz's argument, after he was petitioned by his congressional rival Antonio Bengzon III, was upheld by the Supreme Court in 2001.
 Grace Poe does not have to worry about being "Natural Born" to qualify for Congress and the Presidency. She was already covered in year 2003 by Republic Act 9225 (An Act Making the Citizenship of Philippine Citizens Who Acquire Foreign Citizenship Permanent). It was the same law being quoted by many former foreign citizen Filipinos who were mayoralty and gubernatorial bets in the 2010 and 2013 elections.
The law says in  Section 3: " Retention of Philippine Citizenship - Any provision of law to the contrary notwithstanding, natural-born citizenship by reason of their naturalization as citizens of a foreign country are hereby deemed to have re-acquired Philippine citizenship upon taking the following oath of allegiance to the Republic:
"I _____________________, solemny swear (or affrim) that I will support and defend the Constitution of the Republic of the Philippines and obey the laws and legal orders promulgated by the duly constituted authorities of the Philippines; and I hereby declare that I recognize and accept the supreme authority of the Philippines and will maintain true faith and allegiance thereto; and that I imposed this obligation upon myself voluntarily without mental reservation or purpose of evasion."
Whenever I am in the cities of Davao, Iloilo, Baguio, and Cebu I see to it I bought all the local newspaper there for comparison with the almost 30 Pangasinan based tabloids that include the fly-by-nights that rear their ugly heads and revolting English grammars whenever election is around the corner.