Danny, who owned one of two main newsstands in Dagupan City, told me that newspaper business declines.
My city has a population of 171, 271 according to the 2015 Census. Besides its population this Bangus City has been a watering hole of people in the towns of Central Pangasinan who probably buy their newspapers here.
"Dati rati nakakabenta ako ng 30 (Philippine Daily Inquirer) pero daily average ko ngayon 15 lang ( I used to sell 30 Philippine Daily Inquirer's newspapers in the good old days but now I can sell only 15 dailies for an average)," Danny cited
When I asked him how Inquirer's rivals Philippine Star and Manila Bulletin fair, he told me Philippine Star , majority owned by MediaQuest Holdings, Inc., a media conglomerate controlled by PLDT chairman Manuel V. Pangilinan, and Manila Bulletin averagely sell eight and four copies a day, respectively.
"Pero ang Bulletin pag Sunday marami bumibili dahil sa job advertisement," he said.
He told me that the number one community news in the city sells only 20 copies in a week in his stand.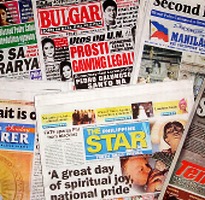 "Iyong mga Manila Times, Manila Standard Today, and The Daily Tribune tag isa lang benta ko niyan kada araw. Provincial government ang suki ko diyan," he said.
I told him this declining number of newspaper buyers is a phenomenon not only in the Philippines but in the U.S, Europe, and Australia.
"It's because of the internet on their mobile phones and laptops where people can read news for free on those dailies and community newspapers that caused their poor circulation," I cited.
Besides, Inquirer, Philippines Star, and Manila Bulletin are being given for free when one patronized fast foods Jollibee, McDonald, and Chowking.
A strategy their publishers resorted to justify the number of their circulation to attract advertisers who sell cars, appliances, others to those crowds A-B-Cs who go to these fast foods and eat.
He told me the hoi-polloi's newspaper the screaming headlined tabloid, that used to eclipse those major dailies in sale, have suffered too to lethargic circulation.
"Iyong Abante, Bulgar depende sa headlines nila. Iyong dami ng sale nila parehas lang sa Inquirer," Danny, who had been selling newspapers for decades, said.
The nephew of former five-time House Speaker Joe "JDV" de Venecia told us recently media men and former public officials at a coffee house in Robinsons- Calasiao that Dagupan City Vice Mayor Brian Lim should take his time.
"He should not run as mayor in 2019, he bids his time till 2022 when Mayor Belen (Fernandez) ends her last term," Solo de Venecia opined.
He said that Fernandez has no heir apparent that could threaten Brian's moist eyes on the mayoralty.
"He would be mayor in 2022," Solo, who speaks like JDV, quipped.
But a political analyst, who asked anonymity, disagreed on the prognosis of the former Speaker's nephew.
"The De Venecias (Speaker, former congresswoman Manay Gina, and incumbent Representative Toff) would not allow Brian to be whisked to the mayoralty".
He said that Mayor Belen and Congressman Toff would swap posts in 2022 to frustrate Lim, an absentee vice mayor, becoming the top executive of the Bangus City.
"Brian as mayor would undermine the chance of the de Venecia's to prolong their hold in the 4th Congressional District. Dagupan City's mammoth numbers of voters are indispensable to the de Venecias. Without them, the de Venecias could just kiss goodbye their future in the congressional office," he said.
(You can read my selected columns at http://mortzortigoza.blogspot.com and articles at Pangasinan News Aro. You can send comments too at totomortz@yahoo.com)