The recent rule passed by the Commission on Election (Comelec) talks only of the two periods of substituting a candidate who vies for an elective position in the 2016 election.
This  candidate can be either running for the presidential, vice presidential, senatorial, congressional, governorship, vice governorship, provincial board, mayorship, vice mayorship, or councillorship.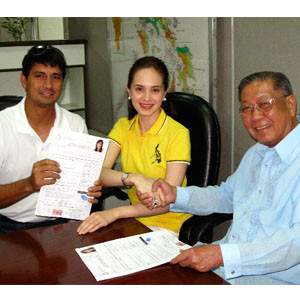 SUBSTITUTION.
  Actress Lucy Torres-Gomez (middle) who substituted her
husband  Actor Richard Gomez who was vying for the 2010 congressional
election in the Visaya Region. PHOTO CREDIT: PEP
Resolution No. 9984 said the first period that will commence from October 12 to December 10, 2016 covers about the substitution of a candidate in case of death, disqualification or withdrawal of another.
Section 19 of the Resolution cited that 
an official candidate of a duly registered political party (PP) or coalition, who dies, withdraws or is disqualified for any cause after the last day for the filing of Certificate of Candidacies (COCs) which is October 12 may be substituted by a candidate belonging to, and nominated by the same PP or Coalition.
The law says, however, that no substitute shall be allowed for any independent candidate.
"The substitute of a candidate who has withdrawn may file a COC for the Office affected on or before December 10, 2015 so that the name of the substitute will be reflected on the official ballots," Section 19 stressed.
In the second period it also says that no substitution due to withdrawal shall be allowed after December 10, 2015.
Section 19 provides that the substitute for a candidate who died or is disqualified by final judgment, may file a COC from December 11, 2015  up to mid-day of election day; Provided that, the substitute and the substituted have the same surnames.
"If the death or disqualification should occur between the day before the election and mid-day of Election Day, the substitute candidate may file a COC with any Board of Election Inspectors, Election Officers, Provincial Election Supervisor or Regional Election Director, as the case may be, in the political subdivision where such person is a candidate, or in the case of a candidate for President, Vice-President or Senator, with the Law Department; Provided that, the substitute and the substituted candidate have the same surnames," the law says.