QUEZON CITY- A veteran national politician said that Senator Alan Peter Cayetano  is suited for the Senate Presidency.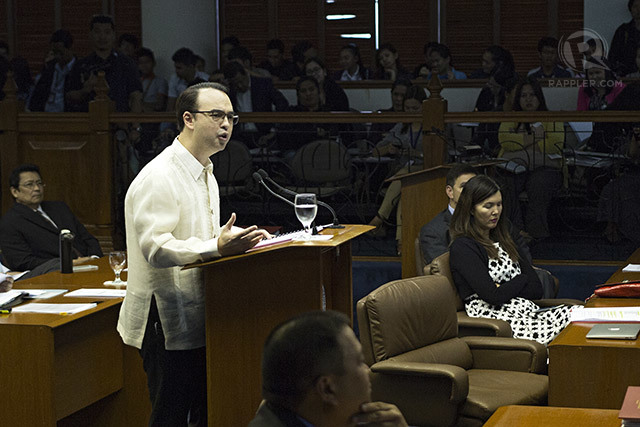 Senate Majority Floor Leader Alan Peter Cayetano exhorts
members of the Senate. PHOTO CREDIT. rappler. com
 "Puwede, puwede (He is qualified)," said recently by former five-time Speaker Jose de Venecia, the power behind the vaunted Rainbow Coalition of congressmen in the former Ramos Administration.
Known as JDV, he said in a social function here that Cayetano, who was the vice presidential tandem of President – Elect Rodrigo Duterte, can wiggle to the senate presidency through his ability and the influences of Duterte to the members of the 24-man August Chamber.
"It depends upon your ability to mobilize strategic intra-party quantities," he stressed.
The former Speaker agreed that Duterte's support will have a say for the senator's choice of their top whip when the Senate convenes on July this year.
"He has a definite say".
The president-elect in his recent media interviews disclosed that he was hands off on the selection for the senate's top man.
Cayetano, a member of the Nationalista Party, recently said that 15 members of the Senate already signified their commitment to support him.