"If National Food Authority's Administrator Jason Aquino signed the approval of the three import permits of rice while he fought for the suspension of its importation through the private sector as they prejudice the price of palay in the middle of the harvest season, was Aquino a hypocrite? My poser to anti-smuggling Samahang Industriya Agrikultura (SINAG) chair when he guested recently my radio program.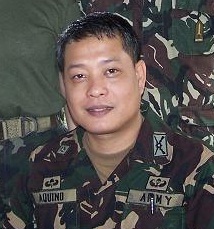 EX-ARMY MAN. NFA Administrator Jason Aquino used to be
an Army man. A graduate of the Philippine Military Academy's
Class of 1991.
Rosendo So told me Aquino has a problem.
"Iyon ang isang problema. Kung hinde mo na aprubahan lahat, huwag mo aprubahan," he stressed.
In his squabble with a cabinet Secretary Leoncio "Jun" Evasco Jr. and Undersecretary Maia Chiara Halmen Valdez, Aquino, a PMYer and recommendee of Paulo Duterte, argued as reported by the media that the importation of rice could pull down the price of palay in the middle of a bumper harvest season in March and April this year.
Because of that rift, an angry President Rodrigo Duterte unceremoniously sacked Valdez last April 5 because she threatened the livelihood of poor Filipino farmers.
"Why only sacked Valdez, why not the principal too Evasco?" I asked myself then.
But many were jolted by Aquino's double speaks when we learned that he had approved last March 10 three import permits of 5,400 metric tons (MT) of the staple  while these cargo ships were sailing to Cebu City and Davao City.
Aquino is pushing for government-to-government (G-to-G) importation of one million metric tons of rice to prepare for the supposed rice supply shortage the NFA foresees in the coming months.
Mr. So said he learned in his March 7 Vietnam visits that the Philippine government plans to import 3 Million MT from that country in the next two years.
3 million MT if multiplied to 20 equals to 60 million cavans of 50 a kilo bag of rice.
"Bakit inspite na nangyari me bagong statement na naman ang Vietnam na ang gusto pala ng Pilipinas for two years is three million metric tons or sixty million cavans na bigas. Nawala na ang 35% tariff pag pasok nito alam natin ang NFA rice, pero walang NFA price. Ang nangyari napupunta sa traders iyon," So, a licensed engineer, cited.