One of the major reasons why Senator Grace Poe was overtaken in the polls by presidential rival Rodrigo Duterte more than a month before the May 9, 2016 national election was because the feisty mayor was unequivocal that he would see dreaded drug pushers dead.
 16 million voters, gee whiz, applauded Duterte whenever he threatened in that hustling  to turn red Manila Bay with the very blood of his pet peeve the narcotics peddlers.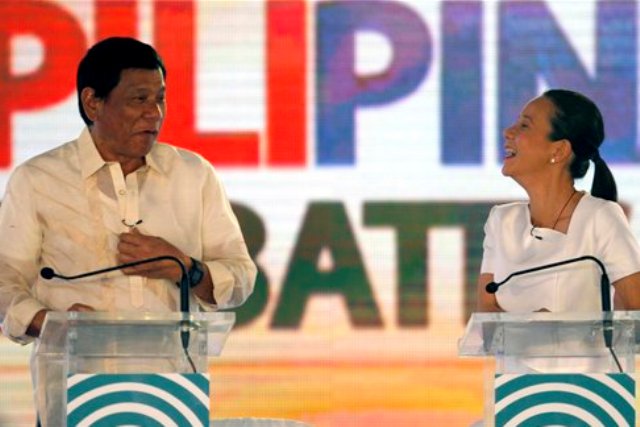 FLIP-FLOPPED. Then presidential rivals Rodrigo Duterte and Grace Poe were the only candidates
in the Second Presidential Debate in Cebu who raised their hands that they were for Death Penalty
in case they win the May 9, 2016 Election. Duterte won that election while Poe, an incumbent
senator, just like in her 2013 senatorial run volte-face as anti - death punishment advocate.
PHOTO CREDIT: PHILIPPINE STAR
"Manalo ako kasi because of breakdown of law and order (I will win because of the breakdown of law and order). I do not want to commit a crime but if by chance, God will place me there, magbantay kayo. Yung 1,000, magiging 100,000. Diyan mo makita tataba yung isda sa Manila Bay. Diyan ko kayo itapon (The 1,000  dead drug pushers would become 100,000. The fish at Manila Bay would go fat because I am going to feed you there)".
The crowd cheered wildly every time he repeated this pledge.
He added his vitriol with the following:
 "Pag ako ang pinagbigyan ng Diyos maupo diyan, mismo ang Diyos, iiyak yan. Tingnan mo (if God allows me to be president God will weep for what I would do to narcotics pushers)," he told a group of  applauding transport operators and drivers in Paranaque.
I saw too how the multitude in Dagupan City turned gaga whenever he declared with tongs and hammer this kind of pronouncement.
"Delikado si Grace Poe dito," I told myself in the sideline.
Poe volte-face on the death punishment.
 I
n 2013, as a campaign promised for her senatorial run, she told the hoi-polloi she was anti-death punishment. In the 2016 election she said she was pro-death punishment.
In my March 11, 2017 interview with her, after the Induction and Turnover Ceremonies of the JCI Dagupan Bangus Chapter in Dagupan City, she told me she was against death penalty.