Vice presidential aspirant Francis "Chiz" Escudero rebutted rival Leni Robredo's pronouncement that doubted his thirty thousand pesos budget for television advertisement that caused him to top the series of national surveys.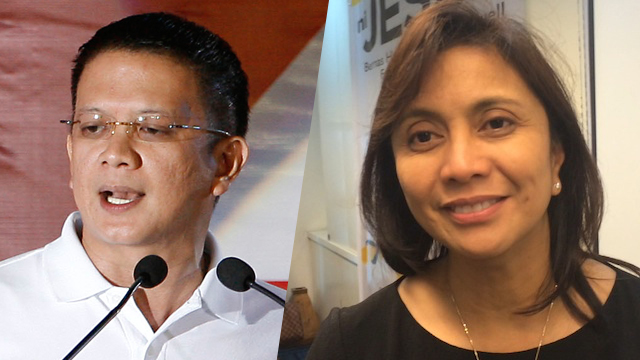 RIVALS. Independent Vice Presidential bet Chiz Escudero and Liberal Party's
VP aspirant Leni Robredo. Both are Bicolano. PHOTO CREDIT: Rappler.Com 
"She better asked AGB Nielsen because it was the one who did the research," Escudero, an independent candidate," told me when I met him at the Thunderbird Resort in San Fernando City, La Union  last Wednesday.
Robredo answered me, during her January stomped in Dagupan City, that she did not believe Escudero topped the polls before the start of the February 9 campaign period despite a shoe string budget.
Both rivals are Bicolano.
"I don't believe that, I saw his ads too on TV," she told me when I asked her if she did not fear Escudero who spent a minuscule
 sum and has yet to bring pretty actress wife Heart Evangelist in the campaign trails.
Escudero said that he was nobody compared to the political juggernaut Liberal Party that backed Robredo.