Vice presidential aspirant Francis "Chiz" Escudero rebutted rival Leni Robredo's pronouncement that doubted his thirty thousand pesos budget for television advertisement that caused him to top the series of national surveys.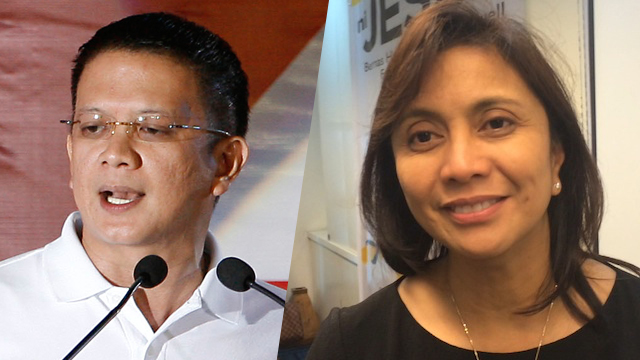 RIVALS. Independent Vice Presidential bet Chiz Escudero and Liberal Party's
VP aspirant Leni Robredo. Both are Bicolano. PHOTO CREDIT: Rappler.Com
"She better asked AGB Nielsen because it was the one who did the research," Escudero, an independent candidate," told me when I met him at the Thunderbird Resort in San Fernando City, La Union last Wednesday.
Robredo answered me, during her January stomped in Dagupan City, that she did not believe Escudero topped the polls before the start of the February 9 campaign period despite a shoe string budget.
Both rivals are Bicolano.
"I don't believe that, I saw his ads too on TV," she told me when I asked her if she did not fear Escudero who spent a minuscule
sum and has yet to bring pretty actress wife Heart Evangelist in the campaign trails.
Escudero said that he was nobody compared to the political juggernaut Liberal Party that backed Robredo.
"Sa survey ng AGB Nielsen ang ads spending bago magsimula ang election, ang ginastos ng isang katungali ko si Senator (Alan Peter) Cayetano P390 million sa advertisement, ang ginastos ni Senator (Bong Bong) Marcos P103 million, pag hinde ako nagkamali, ang ginastos ni Congresswoman Robredo (more than) P91 million, si Senator (Gregorio) Honasan, P43 million, ang ginastos ko ayon sa AC Nielsen P30 thousand," Escudero declared last February 24 to the sea of students and public officials in a convention hall of Thunderbird Resort.
He said when the first national survey went out, he felt sorry for himself by topping it despite the thirty thousand pesos budget versus the tens of millions of pesos his rivals spent for the television advertisement.
In the 2013 election Attorney Felipe Gozon, Chief Executive of GMA Network, Inc., said that a 30 second advertisement for national viewership for a senatorial candidate cost him/her half a million pesos. Then senatorial bet Teddy Casino said that a 30 second slot ads in ABS-CBN for national viewership cost Php 500,000.
"Ibig sabihin umubra ang lumang prinsipyo, may kasabihan "Ang pera may tao, pero ang tao walang pera. Buti na lang ang tao ay nakakaboto at hinde pera," Escudero cited amid the applause of the amused crowd.
Nielsen Philippines said those who run for the Philippine presidency, vice presidency and Senate seats spent a combined P3.538 billion on TV ads last year.
The figures were based on the "2015 rate cards'" or gross ad prices of major television networks.
AGB Nielsen Media Research Philippines, popularly called AGB Nielsen, is a market research firm in the Philippines specializing in broadcast media. It conducts audience measurement of television ratings for certain areas in the Philippines, most notably in urban areas.
(Send comments at totomortz@yahoo.com)