ILOILO CITY - Many reelected mayors in the concluded May 9 election lost their bid.
"The loss was a huge slapped on the face of these politicians," an incumbent mayor, who served his first class town for more than 20 years, told me.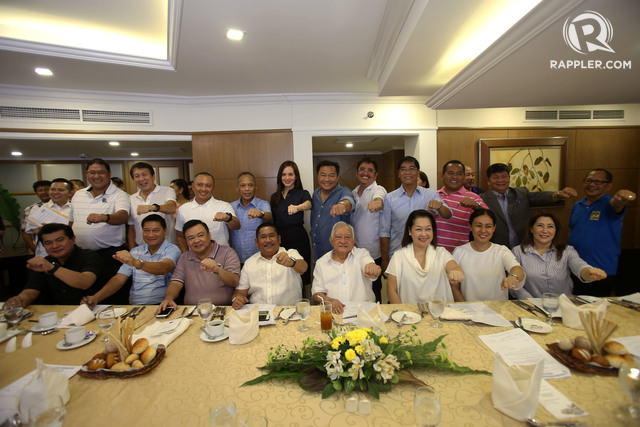 JUMP SHIP. Congressmen from various political parties took their oath of allegiance to presumptive 17th Congress House Speaker Pantaleon Alvarez and his and President-Elect Rodrigo Duterte's PDP-Laban Party. PHOTO CREDIT: Rappler
He cited that a sitting mayor in a first class town receives more than a million pesos a month of payola from illegal number game jueteng and other forms of gambling, millions of pesos S.O.P (euphemism of 20 percent or more cut) from government projects and supplies sold by the contractors to the municipal government, while his opponent spends to defeat him in the election by using his personal monies.
Recent news reports said that outgoing House Speaker Sonny Belmonte was disappointed about the mass defection of the members of the once vaunted Liberal Party.  Just weeks after the May 9 poll, these solons swear allegiance to the Partido Demokrito Pilipino- Lakas ng Bayan (PDP-Laban) of president-elect Rody Duterte.
Many of them fought tooth, gum, and nail for the presidential victory of Mar Roxas who helped them get projects from the Palace.
Now they unabashedly sing hosannas to Duterte forgetting that weeks ago they were flirting with Roxas as if he was the best "thing" that happened in their lives.
Was this bad taste in the mouth?  
Yes, if you have halitosis or bad breath, but congressmen chart their reelection by interceding thru his or her connection with Malacanang on the number of multi-million pesos projects and the millions of pesos the national government can give to his or her district.
In each of that projects he or she can pocket through the 20 percent or more S.O.P  like those farm-to-market roads  by the Departments of Agriculture and Agrarian Reform or concrete road pavement or elevation pavement of highway done by the Department of Public Works & Highway.
Thanks to the moro-moro played by their favorite private contractors who rigged the bidding to overprice it so they can stash away a big chunk of public monies. (Read here my previous article how government officials rob the coffer, by clicking
How contractor profits from gov't project).