ILOILO CITY - Many reelected mayors in the concluded May 9 election lost their bid.
"The loss was a huge slapped on the face of these politicians," an incumbent mayor, who served his first class town for more than 20 years, told me.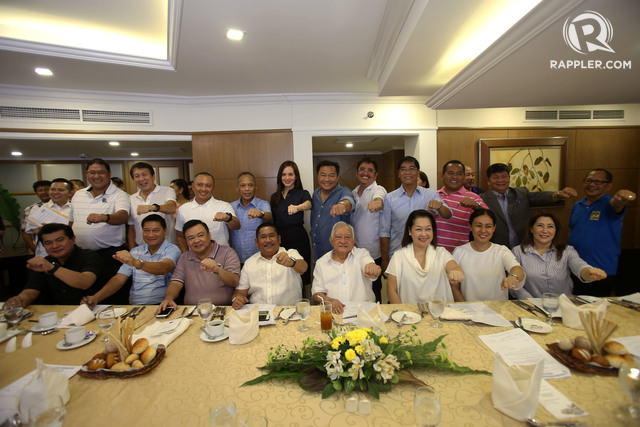 JUMP SHIP. Congressmen from various political parties took their oath of allegiance to presumptive 17th Congress House Speaker Pantaleon Alvarez and his and President-Elect Rodrigo Duterte's PDP-Laban Party. PHOTO CREDIT: Rappler
He cited that a sitting mayor in a first class town receives more than a million pesos a month of payola from illegal number game jueteng and other forms of gambling, millions of pesos S.O.P (euphemism of 20 percent or more cut) from government projects and supplies sold by the contractors to the municipal government, while his opponent spends to defeat him in the election by using his personal monies.
Recent news reports said that outgoing House Speaker Sonny Belmonte was disappointed about the mass defection of the members of the once vaunted Liberal Party. Just weeks after the May 9 poll, these solons swear allegiance to the Partido Demokrito Pilipino- Lakas ng Bayan (PDP-Laban) of president-elect Rody Duterte.
Many of them fought tooth, gum, and nail for the presidential victory of Mar Roxas who helped them get projects from the Palace.
Now they unabashedly sing hosannas to Duterte forgetting that weeks ago they were flirting with Roxas as if he was the best "thing" that happened in their lives.
Was this bad taste in the mouth?
Yes, if you have halitosis or bad breath, but congressmen chart their reelection by interceding thru his or her connection with Malacanang on the number of multi-million pesos projects and the millions of pesos the national government can give to his or her district.
In each of that projects he or she can pocket through the 20 percent or more S.O.P like those farm-to-market roads by the Departments of Agriculture and Agrarian Reform or concrete road pavement or elevation pavement of highway done by the Department of Public Works & Highway.
Thanks to the moro-moro played by their favorite private contractors who rigged the bidding to overprice it so they can stash away a big chunk of public monies. (Read here my previous article how government officials rob the coffer, by clicking
How contractor profits from gov't project).
For those who read this column on the hard copy of our newspaper, here are some excerpts of that topic:
"He said in a P28 million gravelling of roads, the palace connected guy who interceded for the project in the province gets 10%, the district congressman who identified the place of the project gets 5% from the worth of the project.
"Mga P15 million ang kita ko diyan sa project," a contractor whispered to me when I asked him how much he earned from it.
"Tubong lugaw," ang raket na napasok ninyo," I told him after I mentally calculated that the government and the public get only P8.8 million after P2.8 million goes to the palace's connection, P1.4 million goes to the congressman, and the P15 million profits he pocketed.
I believed what this contractor told me.
In the past, a mayor who was a contractor told me the anatomy of the two-third of the government monies that went to the pocket of the contractor and government officials.
He told me that there was a P3 million fund for re-gravelling of road from the national government in a town in a Congressional District of Pangasinan. The mayor asked him how much he would give him in case he (mayor) asks for his service.
"I give you P1 million." The grateful town executive shook his hand for the conclusion of the negotiation.
My contractor pal told me he got for himself the P1 million, while the remaining P1 million was deducted by P100 thousand for the municipal engineer who certified that the substandard project was above board, an average of P5 thousand to each of the barangay captains whose jurisdiction were beneficiaries of the project.
"Iyong re-gravelling ang contractor spends only less than 30 percent of the total amount (It means less than P900 thousand from the P3 million budget- MCO)," he told me."
Now that Bayambang, Pangasinan mayoralty elect Cesar Quiambao gears to assume office at noon of June 30, I am curious to see what happen to a media practitioner who was an avid apologist and rah- rah person of former mayor Ricardo Camacho.
A few days before the May 9 election, I bumped into Quiambao's Man Friday Levin Uy, former councilor and Director of Quiambao's Kasama Kita sa Barangay Foundation (KKBF), and PR man Jessie Perez in a coffee house in Dagupan City.
They told me that they want to see this person, who sow intrigued against them during the Camacho's heydays, yank-out from the media circle of the new mayor.
Reports say that this practitioner had been heaping praises and plaudits to Quiambao.
(You can read my selected columns at http://mortzortigoza.blogspot.com and articles at Pangasinan News Aro. You can send comments too attotomortz@yahoo.com)