QUEZON CITY- A veteran national politician said that Senator Alan Peter Cayetano is suited for the Senate Presidency.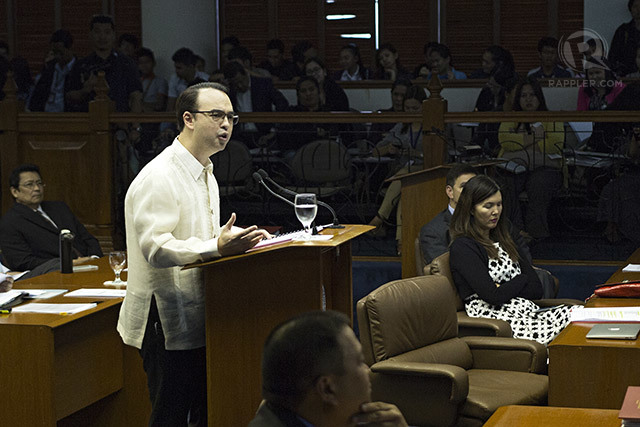 Senate Majority Floor Leader Alan Peter Cayetano exhorts
members of the Senate. PHOTO CREDIT. rappler. com
"Puwede, puwede (He is qualified)," said recently by former five-time Speaker Jose de Venecia, the power behind the vaunted Rainbow Coalition of congressmen in the former Ramos Administration.
Known as JDV, he said in a social function here that Cayetano, who was the vice presidential tandem of President – Elect Rodrigo Duterte, can wiggle to the senate presidency through his ability and the influences of Duterte to the members of the 24-man August Chamber.
"It depends upon your ability to mobilize strategic intra-party quantities," he stressed.
The former Speaker agreed that Duterte's support will have a say for the senator's choice of their top whip when the Senate convenes on July this year.
"He has a definite say".
The president-elect in his recent media interviews disclosed that he was hands off on the selection for the senate's top man.
Cayetano, a member of the Nationalista Party, recently said that 15 members of the Senate already signified their commitment to support him.
Last Saturday's midnight, Senator- elect Manny Pacquiao signed in Davao City the resolution endorsing Cayetano for the presidency while Duterte and Cayetano looked.
He is pitted for the top post with Senators Tito Sotto and Aquilino Pimentel III of the Nationalist People's Coalition and Partido ng Demokratikong Pilipino-Lakas ng Bayan, respectively.
The Senate President is elected by the majority or 13 members of the Senate. According to Wikipedia, he wields considerate power by influencing the legislative agenda of the country and has the ability to vote not just in order to break tie.
He has a power also who chairs or sits on the senate committees.
According to Senator Merriam Santiago, based on the 2011 Commission on Audit's report that while each regular senators was given P63.3 million a year they collectively control and where accountable only for 47.49% of the total Senate budget.
"The Senate President controls the remaining 52.51% of the Senate budget, or the total amount of P 1.7 billion for 2013," she said.