Amid the rumors that presidential front runner Rodrigo Duterte hid billions of pesos on his BPI accounts, President Benigno Aquino III to undermine the May 9 presidential election in favor of Administration backed  Liberal Party's presidential aspirant Mar Roxas, vice presidential candidate Antonio Trillanes threat that groups in the military will grab power to prevent the communist friendly Duterte to assume the presidency, and speculation in the social media that the Armed Forces of the Philippines and the U.S Central Intelligence Agency collude,
just like in Chile and South Vietnam,
 to assassinate the presidential front runner,  here is an excerpt of my interviews with Duterte and his vice presidential bet, my friend, Senator Alan Peter Cayetano about their take on these rumors just after the third presidential debate held in Dagupan City.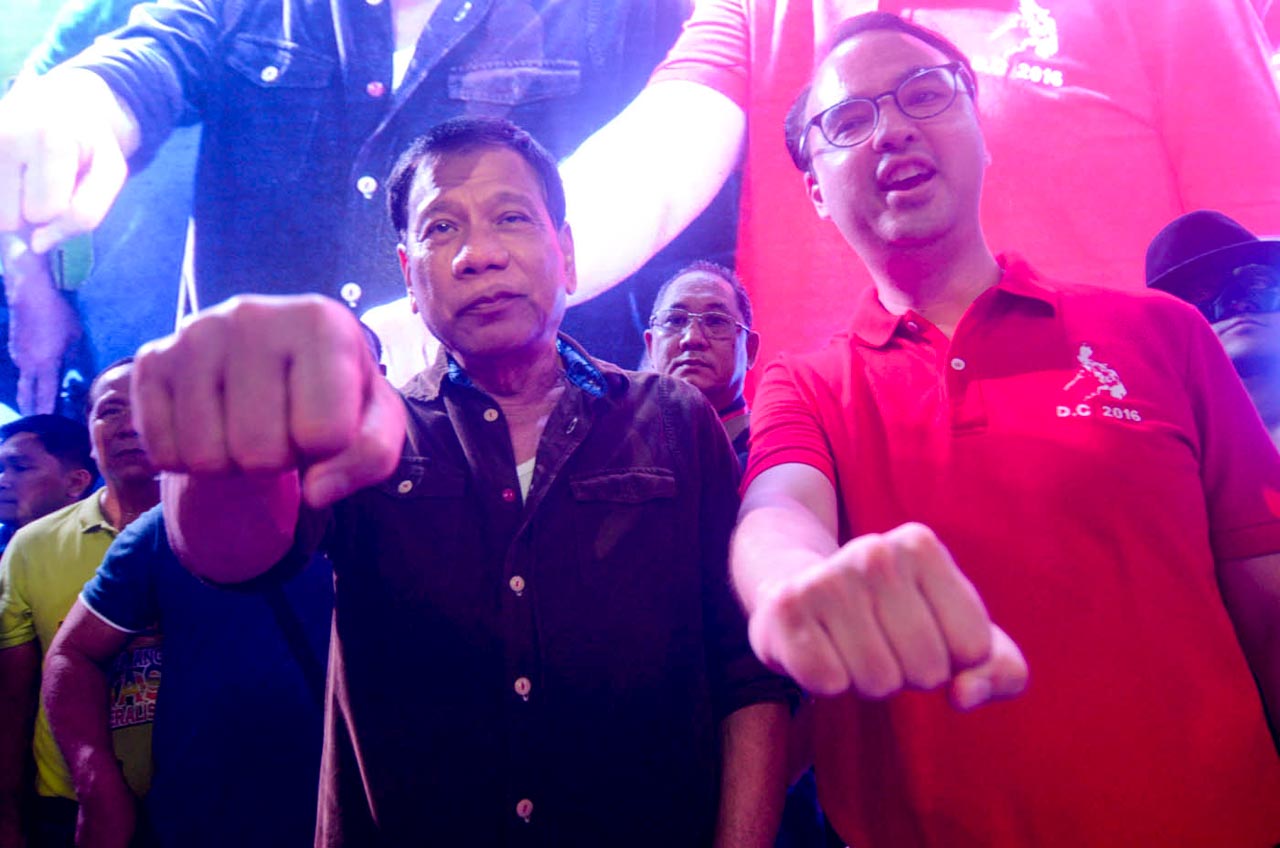 Davao City Mayor Rodrigo Duterte and Senator Alan
 Peter Cayetano. PHOTO CREDIT: JoeAm.Com
MORTZ ORTIGOZA (ME):
There were rumblings among the military that they would not allow a Duterte Administration to assume power on July 1. Several observers said that the Armed Forces of the Philippines and the CIA would collude to topple down a President Duterte because he is identified with the communist and would be a threat to the military alignment in the region versus Mainland China. What's your take?
SEN. CAYETANO
: Unang una Diyos lang ang may alam kung sino talaga ang magiging president. Pangalawa hinde dapat makialam ang mga foreign countries because we have our national interest. We love our alliances with other countries but they should allow Filipinos that Filipinos chose their president.
At sa military and police hinde sila allowed iyong partisan politics. Ramdam namin, so may mga nagsasabi kay mayor na dahan-dahan sa pagsasalita dahil sa mga kaalyado natin. Pero sabi niya dapat independent ang Filipino sa ating foreign policy dapat Filipino mag isa at panindigan niya.