Blame the Nonchalant Philippine Government, AFTA would Gobble PH's Sugar Industry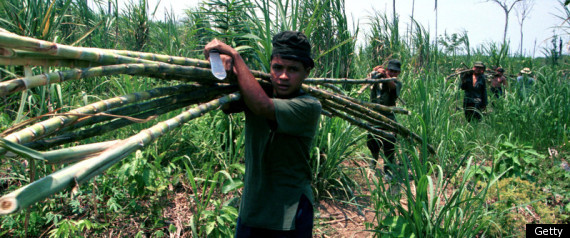 DEATH FOR FILIPINO SACADAS.These dirt poor Filipino sugar cane "sacadas" would become jobless in the work they inherited from their ascendants. Thanks but no thanks to the incompetence of the Philippine government in not rendering assistance to the sugar industry. Starting January 1, 2015 cheap Thailand sugar will flood the Philippine market, thanks to the Southeast Asian Nations (Asean) Free Trade Agreement Filipino consumers will find more savings whenever they buy sugar at the expense of the sacadas.
By MORTZ C. ORTIGOZA
The Association of Southeast Asian Nations (Asean) Free Trade Agreement will be implemented on January 1, 2015. It's upside the P40 a kilo of white sugar could drastically plunge to P30 or less. It bodes well to the consumers.
Its downside however is it would be a blow to the owners of the 28 sugar centrals in the Philippines that provide 700,000 Filipino jobs.
According to the Sugar Regulatory Administration, the country's sugarcane industry has to be reinvigorated to be competitive. Private sector data show that other countries produce cheaper sugar, the cost of which is equivalent to even one-half the cost of our sugar.
Why? While the Philippines government ignored any assistance to buttress the sugar industry, Thailand, the No. 2 sugar producer in the world after Brazil, has galvanized its sugar millers to compete in the take-no-prisoner's AFTA.
Thailand provides direct and indirect support for its sugar industry, such as supplemental payment to farmers, low interest loans at 2 percent per annum, fixed domestic prices, free irrigation services, and a well-developed and maintained transport infrastructure such as road networks and transloading ports," according to Ma. Regina Bautista-Martin, administrator of the Sugar Regulatory Administration (SRA), who wrote "Pump-priming for a Stronger, Globally Competitive Sugarcane Industry: Through the Sugarcane Industry Development Fund".
Martin cited that despite the contribution of P88 billion  in the Philippine economy from the sale of raw sugar, refined sugar, bioethanol and molasses, tolling fees of refined sugar, value-added tax (VAT) on tolling and VAT from the sale of refined sugar, the sugar industry does not receive any funds from the Department of Agriculture, either for the construction of farm-to-mill roads, sugar warehouses, irrigation or water-impounding facilities, research and development or extension services.
If Thailand backs up its sugar industry, and other industries, why the Philippine government ignored this industry?  Because of this governmental incompetence sugar workers would be gobbled by other countries in the regional laissez faire where tariff is pegged at 5% only.
Can you imagine if each of these workers has been feeding some mouths and after AFTA he finds himself jobless.
*** 
One of the most sought legal eagles in Pangasinan told me that the lawyers of the sacked Pangasinan Provincial Administrator Raffy Baraan and Provincial Housing and Urban Development Council Office chief's Alvin Bigay are lightweight.
"Mahina, natangal sa puesto ang kliyente niya".