One of the major reasons why Senator Grace Poe was overtaken in the polls by presidential rival Rodrigo Duterte more than a month before the May 9, 2016 national election was because the feisty mayor was unequivocal that he would see dreaded drug pushers dead.
16 million voters, gee whiz, applauded Duterte whenever he threatened in that hustling to turn red Manila Bay with the very blood of his pet peeve the narcotics peddlers.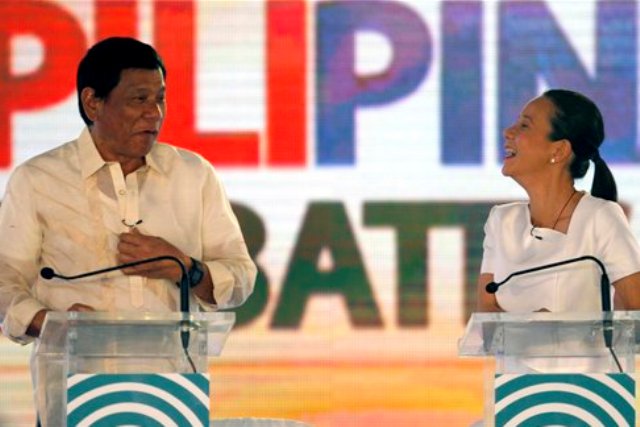 FLIP-FLOPPED. Then presidential rivals Rodrigo Duterte and Grace Poe were the only candidates
in the Second Presidential Debate in Cebu who raised their hands that they were for Death Penalty
in case they win the May 9, 2016 Election. Duterte won that election while Poe, an incumbent
senator, just like in her 2013 senatorial run volte-face as anti - death punishment advocate.
PHOTO CREDIT: PHILIPPINE STAR
"Manalo ako kasi because of breakdown of law and order (I will win because of the breakdown of law and order). I do not want to commit a crime but if by chance, God will place me there, magbantay kayo. Yung 1,000, magiging 100,000. Diyan mo makita tataba yung isda sa Manila Bay. Diyan ko kayo itapon (The 1,000 dead drug pushers would become 100,000. The fish at Manila Bay would go fat because I am going to feed you there)".
The crowd cheered wildly every time he repeated this pledge.
He added his vitriol with the following:
"Pag ako ang pinagbigyan ng Diyos maupo diyan, mismo ang Diyos, iiyak yan. Tingnan mo (if God allows me to be president God will weep for what I would do to narcotics pushers)," he told a group of applauding transport operators and drivers in Paranaque.
I saw too how the multitude in Dagupan City turned gaga whenever he declared with tongs and hammer this kind of pronouncement.
"Delikado si Grace Poe dito," I told myself in the sideline.
Poe volte-face on the death punishment.
I
n 2013, as a campaign promised for her senatorial run, she told the hoi-polloi she was anti-death punishment. In the 2016 election she said she was pro-death punishment.
In my March 11, 2017 interview with her, after the Induction and Turnover Ceremonies of the JCI Dagupan Bangus Chapter in Dagupan City, she told me she was against death penalty.
In my recent interview again with her at the Mango and Bamboo Festival in San Carlos City, Pangasinan, the home place of her father, I asked her the following:
"They said you flipped flopped on the Death Penalty. In 2013 you were anti- death penalty, in the 2016 Election you were pro- death penalty, kanina sabi niyo anti death penalty uli Kayo. What's your take?"
She told me she was consistent on her stance on death punishment.
"We should first do judicial reform before we discuss death penalty," she cited.
But an article last year in Rappler.com said she was for death punishment as a come-on for the pro-death voters to vote her in the last presidential election.
Here's an excerpt of the article written by Jee Y. Geronimo:
"During the second "Yes or No" segment of the Cebu presidential debate on Sunday, March 20, only Davao City Mayor Rodrigo Duterte and Senator Grace Poe raised their hands when asked who among the candidates were in favor of bringing back the death penalty in the Philippines".


In the latest survey of Social Weather Station
showed that 61 percent of Filipinos approved of the death penalty for heinous crimes.
If Poe wanted to win the 2022 presidential election she should be forthright about her intended government policy just like what Duterte's blunt and straight forward pledge to kill all the dangerous drug pushers in case he was elected as the chief executive of this soft and weakling country.
It was just like the unambiguous party promised of U.S Republican presidential bet Donald Trump who promised the yanks to build the wall in the southern border of the U.S so Mexican wet back could not sneak to the United States and take away jobs from the Americans and his unequivocal campaign battle cry to 'drain the swamp" of the lobbyists that suck a significant amount of U.S taxpayers' monies to the pockets of the interest groups.
These two "machos" promised were wildly cheered and applauded by the masses.
Grace Poe should emulate them if she mulls to have a second sight on the presidency in 2022 election.
Radio commentator and Blogger Mortz Ortigoza to Senator Grace Poe: Sinabi ninyo kanina sa stage na walang due process ang mahirap kontra Death Penalty. E, andiyan ang mga free na abugado ng PAO, tapos may automatic review ang Supreme Court pag na convict ang mga mahirap. Paano niyo i-reconcile iyan?
What can you say on the filling of the Crime Against Humanity versus Pres. Duterte sa International Criminal Court?
To Follow na lang sa blog ko ang answers ko sa answers ni Senator Poe
(You can read my selected columns at http://mortzortigoza.blogspot.com and articles at Pangasinan News Aro. You can send comments too at totomortz@yahoo.com)