By MORTZ C. ORTIGOZA
AIR FORCE ONE
Eye strained by the lights of my laptop but could not sleep the other day, I snatched a book by Dan Rather with Mickey Herskowitz's
"The Camera Never Blinks Twice (The Further Adventures of A Television Journalist)
" from my book shelves to spend the night to get a doze. To the younger generation who are preoccupied with Candy Crush Saga and Double Down Casino at the internet Rather is the equivalent nowadays of U.S TV broadcasting icons like Bill O'Reilly of Fox News TV or the less superior Anderson Copper of CNN (Cable News Network, not Caloocan News Network).
"Parang si Noli de Castro or Mike Enriquez kung sa Pilipinas?," butted and posed by my errand boy Procopio Matulis who could not get a sleep in his "dog house".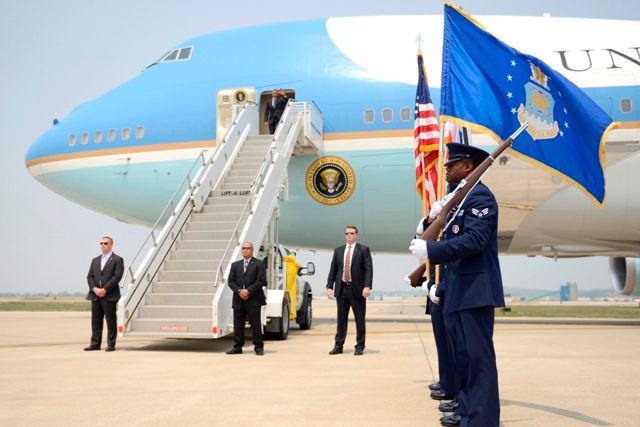 AIR FORCE ONE is a converted Boeing 747. The other plane that accompanied the Air Force One is a Boeing 707 or what Dan Rather called the "Zoo". It hauled reporters that join the presidential trip. Rather was not sure if reporters
really smoked pot in the "Zoo".
"Noli de Castro, Mike Enriquez, sino iyon? Bakit mo sila ikino kompara kay Rather?" I stoically posed too at my jack fruit faced gofer.
I was laughing like crazy on my bed reading Chapter 12 (The Accidental Tourist) when Rather, because he chose to go with fellow "good" Newsday reporter Marty Schram in a "god-forsaken" county, er, village in Belgrade to drink a Yugoslavian native liqueur,a plum brandy whose name in Serbo-Croatian means in English"Paint Thinner" instead of attending a boring presidential ball hosted by Marshal Josip BrozTito (dubbed as communist bad-boy to Kremlin ) to the entourage of U.S President Richard Nixon, was left by the Air Force One in the Communist country.
As a result of the lethal kicked of the "paint thinner" poor Dan Rather baby was left by Air Force One, arrested by the Yoguslav's version of the KGB, jailed, released, and was whisked by a concerned native to a chartered British two propeller powered airplane for London, and the rest was an amusing history for a media man to share to media guys in and outside the U.S.
***
Here's how Rather described Air Force One (a converted Boeing 747) for the benefits of journalist friends in the Philippines who are privy to hang like a bat inside a dilapidated and rusty town bound bus to cover the visit of a Filipino president:
"Two plane loads of press people usually traveled with Nixon, one plane was basically for the writers and the broadcasters, the other plane." Hunter Thompson wrote about it in his book, Fear and Loathing on the Campaign Trail. I can't actually confirm that anyone smoked dope on those planes, or that any White House staffer was actually bound and gagged. But I can't actually deny it, either".
Rather discussed that travelling with the U.S president has big downside, but balanced, if not outweighed, by the upside. He said one who chooses to join the presidential trip can enjoy the illusion of being someone special.
"And why wouldn't you? You are flying ahead of Air Force One. Sometimes, you get to be the pool of reporter with a seat assignment on Air Force One itself.
OBAMA'S SECURITY IN THE PHILIPPINE'S VISIT
Bell Boeing V-22 Tiltrotor (Osprey).
Don't you know that one of the Tiltrotor planes that
escorted the Beast (Obama's General Motor Limousine and his convoy) in Manila costs more than
P4 billion each ($110 million). It is powered by a remote-controlled belly-mounted, six barreled
Minigun turret that can fire 2,000 to 6,000 7.62x51 mm NATO standard bullets or rounds per minute.
Since I was talkin' here with the U.S presidential visit, here's an excerpt of my blog after President Barrack Obama visited the country lately.
"I was glued watching the live U.S Presidential State Visit in April 28 on my wire- and- lights- in- a- box we called in the Philippines as TV and folks at the U.S called as boob tube.
Although I learned on the books of Bob Woodward and Tom Clancy and watched the flicks
Air Force One
starred by Harrison Ford and
Olympus has Fallen
led by Gerard Butler the pomp and pageantry of the overseas travel of the United State president, I was still awed seeing how the world stop revolving in Metro Manila for two hours before the Air force One's Boeing 747 taxied at the runway and parked on the tarmac of the dilapidated Ninoy Aquino International Airport.
Son of a gun, the Manila's reception of Obama was very presidential and elegant.
MARINE ONE HELICOPTER
. Obama uses either the large VH-3D Sea King or
the newer, smaller VH-60N "WhiteHawk".
Honor guards of the Philippine Air force stood ramrod in two lines as the president of the most powerful country in the world walked in the middle.
Two U.S Marine Guards snappily clad in Blue Dress waited at the end of the boarding stairs notwithstanding the black coat garbed secret service armed with FN Five-seven pistols, Heckler & Koch MP5 sub machine guns, 12 gauge Remington 870 shotgun, and 7.62mm KAC SR-25/Mk11 Mod 0 semi-automatic sniper rifles surrounding the 747.
The scintillating scene has been snapped out when Jojo, er, Vice President Jejomar Binay grabbed the hand of Barrack, who became instantly "mestiso" than the charcoal black Jojo, and seemed to whisper that he is the real deal after President Aquino term ends in 2016.
"Look Mr. President despite being juxtaposed with billions of pesos pork barrel scoundrels Senators Juan Ponce Enrile, Jinggoy Estrada, and Ramon "Bong" Revilla, Jr., I still topped the recent survey of Pulse Asia as the next president of the country if election would be held during the distribution of the pollster's questionnaires".
(What's your comment on this Jojo Binay's imaginary bragged Senator Peter Cayetano and former Congressman Hernani Braganza?)
As a member of the Fourth Estate that covered local presidential visits, the sights of U.S president visiting the capital would look Aquino's visits in the provinces and cities a whimper.
As Obama ascended inside the Marine One (either the large VH-3D Sea King or the newer, smaller VH-60N "WhiteHawk"), three Bell Boeing V-11s (Osprey, we saw in Samar after Super Typhoon Yolanda), that cost $70 million each, armed with one 7.62x51mm NATO (.308 in caliber) M240 machine gun or .50 in caliber (12.7 mm) M2 machine gun on the loading ramp or on its belly have been hovering on the air watching with an eagle eye the U.S president in one of the two Marine Ones ready to take off for Malacanang Palace.
I did not see however twin-engine supersonic, all-weather, multi-role combat jet F/A-18 jet Hornet from the nearby aircraft career making a fly- by for Obama at the airspace of Manila.
"Mga 10 minutes andiyan na ang Marine One sa Malacanang," a TV reporter quipped to his partner.
But the U.S president and his entourage arrived in the palace after 20 minutes.
"Bakit 20 minutes noong dumating not 10 minutes? Baka na traffic si Obama sa ere?" my errand boy Galvan posed.
Aside from the color guards, the ground of Malacanang teemed with cabinet members and palace employees when Obama arrived in the Beast (2009 armor plated General Motor's limousine).
Protocol dictates President Aquno introduced first each of his secretaries who form a line, each garbed on an immaculate white barong, to the U.S president, who was perspiring probably because of the scorching Philippines heat, while the latter introduced too his secretaries, clad in black coat and tie, who formed their own queue, too.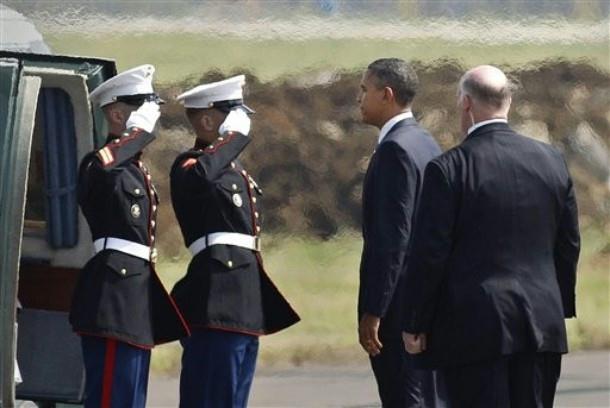 U.S. Marines salute U.S. President Barack Obama, second right, as
he prepares to board Marine One.
If I was not mistaken the following were the words Aquino muttered to the first black dog-eating president of the U.S : "This is Secretary Corazon "Dinky" Soliman of the Department of Social Welfare and Development. She was responsible for the spoilage of millions of pesos of U.S and Canadian relief goods in Samar after Super Typhoon Yolanda scourged it. This is Secretary Butch Abad of the Department of Budget. He was fingered allegedly by Janet Napoles of mentoring and masterminding her how to plunder the multi-billion of pesos pork barrel scam."
(You can read my selected columns at http://mortzortigoza.blogspot.com and articles at Pangasinan News Aro. You can send comments too at totomortz@yahoo.com).