By MORTZ C. ORTIGOZA
Local Government Secretary Mar Roxas, a presidential wannabe, has been aggressive in barnstorming the country and putting his national TV, radio, and newspaper's daily info-mercial to shore up his pathetic surveys image.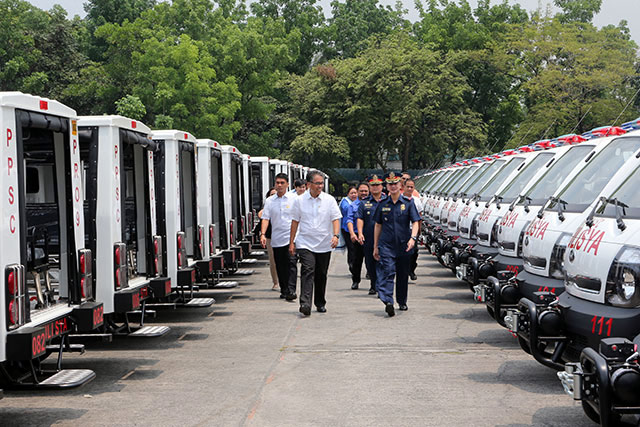 KICK BACK.The overpriced KIA 2700 police patrol cars that
Department of Interior &Local Government Secretary Mar Roxas
and the police purchased at P1.9 million each or a spike of alleged
kick backed of P740,000 each or an overpriced of P155 million for
the 210 vehicles.
Former Speaker Joe de Venecia told me years ago, when his son Joey ran for the 2010 Senate election, that a 30-seconder advertisement at ABS-CBN and GMA-7 ran between P200 to P300 thousand.
Moneyed politicians normally have three to five 30-seconders on each of the national TVs.
Where did Roxas get all the monies when his monthly salary is a pittance at the Department of Interior & Local Government?
First, according to Abono Party-list Chair Rosendo So, whose family owns the Toyota Display and Service Centers in the cities of Baguio and Dagupan, the 210 new modified KIA 2700 vehicles cost P1.9 million each after Roxas and the Philippine National Police purchased them and showed them to the media as the result of the "Daang Matuwid (straight path)".
So said on his Face Book page that it was an overpriced of P740 each or P155 million to all of the cars.
Anak ng baka anong bukol ito? Hindi pa natin pinag-uusapan dito iyong big discout sa huge purchase na ito sa patrol car na may makina na ginto from the management ng KIA.
Second, when Bert Lina was plucked as the commissioner of the Bureau of Custom, many suspected that he is there to raise six billion pesos campaign funds for Roxas.
They said the honest and uncompromising former Commissioner John Sevilla resigned last April because he could no longer stand the "political nature" and continued corruption hounding the BoC while others said he was unceremoniously replaced by President Benigno Aquino III because he could not be manipulated to do the billing for Roxas's ambition.
Lina got the goat lately of the overseas foreign workers (OFW) when he ordered that Balikbayan or OFW boxes would be subjected to random check up for taxable items.
The brouhaha against Lina had been raised to a higher decibel after Custom Deputy Commissioner
Jessie Dellosa and brass of sugar planters rose raucous that 182 metric tons of smuggled sugar had entered the country since May this year at the expense of local planters and workers.
Other critics assailed Lina too of unabated smuggling of agricultural products, petroleum, and others.


Third, another source of funds for Roxas can be taken from illegal gambling game jueteng. Did I tell you before on my past column that in Pangasinan alone Meridiane (played like the illegal game jueteng) earns P5 million a day ( you can access my article at https://northwatch.wordpress.com/2014/12/21/ortigoza-p10m-bets-daily-from-gambling-in-pangasinan/).
With 81 provinces and the 17 cities and towns that composed Metro Manila in the entire country that host jueteng, Meridian, Last-2, massiao, and other illegal betting games, and each of these provinces and those in Metro Manila contributes say P500 thousand a day or P49 million for all of them, that would be a staggering P1.47 billion campaign funds a month to spike the pathetic poll stocks of Roxas in his march to the May 2016 presidential election.
***
The protesting members of the Iglesia ni Cristo (INC) were rambunctious at their series of rallies in front of the office of the Department of Justice. They want that Secretary Leila de Lima should be fair on handling the cases filed at the DOJ by not prioritizing the illegal detention charges against the threatened eight members sanggunian (brass) of the INC.
De Lima's brinkmanship could either make or unmake her on her senatorial aspiration where she was between ranks 7-14 on the June's Pulse Asia survey, just above senatorial wannabe boxing icon Manny "God Save Us" Pacquiao who was ranked 8-14.
On the somersaulting survey hungry dilemma, er, de Lima, her expediting the criminal cases could make her alienate the 1.5 million (half of the 2.5 million INC members) of the voting members of the INC but wins many of those 55,000,000 Filipino voters who hated the political interference and hubris of many members of this controversial religious affiliation where their block voting makes politicians in the country ingratiate, vulnerable, or tremble.
To the adviser of de Lima who chalked up this idea to be gung-ho versus the offended INC multitude, you're making a polls chutzpah my friend to the once hated DOJ Secretary whose posters lauding her are everywhere in the social media.
(You can read my selected columns at http://mortzortigoza.blogspot.com and articles at Pangasinan News Aro. You can send comments too at totomortz@yahoo.com)