During the sent off last November 2 of President Rodrigo Duterte of the 17 Vietnamese fishermen who were detained for almost two months after "poaching" at the sea off of Vigan City, Ilocos Sur,
Northern Watch Newspaper's
correspondent Mortz C. Ortigoza chanced upon Department of Social Welfare & Development (DSWD) Secretary Judy Taguiwalo at Sual Wharf in Sual, Pangasinan. Ortigoza asked her about the previous tussle she had with the congressmen who insisted that members of congress through the power of the purse should have entitlement on the identification of the recipients of government projects. He asked the Secretary if the solons continue the malpractice of conspiring with the private contractors in rigging the government bid where two of the three bidders quoted a higher construction cost thus losing the bid while receiving a bribe from the winning bidder. Ortigoza also posed to Taguiwalo if the old practice of 20 percent S.O.P, euphemism for cut, continues to be given by the winning bidder to the congressman.
Excerpts: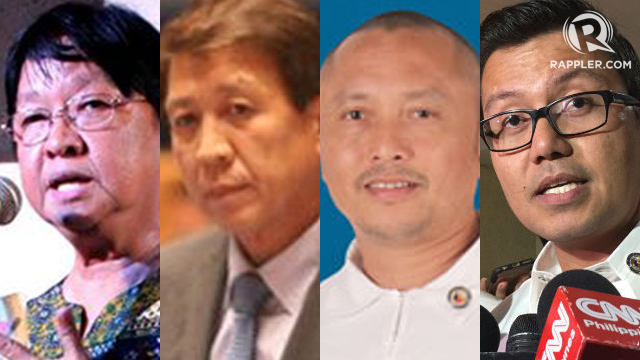 TENSION. Lawmakers drew tension duringthe budget hearing on DSWD as they raise
concern over Secretary Judy Taguiwalo's memorandum that seeks to eliminate the culture of
patronage. TEXT AND PHOTO CREDIT: RAPPLER.COM
Mortz C. Ortigoza (MCO): Media man ako diri, maam. Ilonggo ako. Taga diin kamo? (I'm a media man here. I'm illonggo. Where are you from?)
Secretary Judith Taguiwalo : Bacolod, indi ka Ilocano? ( Bacolod, so you're not Ilocano?) (Her staff chuckled).
MCO: Nakapangasawa ako diri. Sa radio program ko, kinumentaryuhan ko ang ginawa ng mga congressmen sa inyo. Kay kabalo kamo, hampang nila ina mga projects sila naga identify. Sa ila ang contractors kay ginatagaan sila sang 20 percent S.O.P. Is still there a pressure from them that they should prevail on what they wanted? (I married a Pangasinense. In my radio program I discussed about the roughed treatment given to you by congressmen when you appeared at Congress. It is still their practice where they identify recipients of government projects and then received 20 percent S.O.P from their favored contractor? Is still there a pressure from them that you should acquiesce that they should prevail on what they wanted?).
SEC: Ang usapan puwede sila maglagay ng mga projects nila during the

deliberation because that is the role of congress. Di ba? Pero sa implementation na post enactment na, it would be the department.
For example, emergency shelters. Do congressmen insist for their favored contractor?
Hinde nila gagawin iyon...?
Sa Aquino Administration ganoon ang ginagawa nila.
May mga bidding iyan dapat.
Pero nag mu-moro-moro sila sa bidding. Magpapatalo iyong dalawa.
Hinde dapat. Kasi malinaw naman pag sinabe ang usapan naman namin, it should go to the qualified. Tapos walang corruption, alam naman nila. Duterte will not tolerate it.
Sa tan aw niyo ang cut or S.O.P matunga ta or ma minimize naton (What do you think the cut or S.O.P from a project can be put into half or can be minimized?
I hope so kasi pag… change is here nga e so pinaka importante for us is to ensure and I think sa mga debate namin Congress is to ensure that the assistance go to the people.
MCO: Sa tingin ninyo, were they (solons) smarting sang ga deliberate kamo? Daw ga sung-gud ang iban nga congressmen? (What do you think the congressmen were smarting during your deliberation with them. Some of them seem to be smarting).
SEC: Ah, nag clarify naman kami. Kay abi nila (they thought) wala na referral. Siling ko (I said) may referral. But it would be sa guidelines namon (ours) kay ang final say would be the social worker. So, malinaw sa kanila iyon.
READ OTHER ARTICLE RELATED TO THIS Q&A: