I felt vindicated when the killer of an architecture student Nick Russel Oniot, 18, was extra judicially executed, er, killed by policemen when he grabbed the gun of one of the cops after they arrested him.
My feeling of relief on the death of Marvin Bernardo, a recidivist and a parolee for murder, epitomized the feelings of the majority of the Filipinos who are tired already seeing on television habitual delinquents and other criminals preyed on defenseless victims.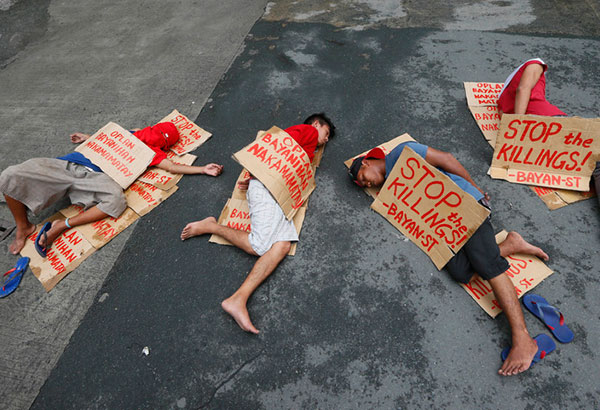 Photo Credit: Philippine Star
Bernardo, and his effeminate companion Reynold Clave alias Sakura, attempted to rob Oniot when the Adamson University's student was walking recently for home at dusk in Taguig.
Instead of yielding to the duo, Oniot fought back by hitting them with his knapsack.
Bernardo, to neutralize Oniot, stabbed him 18 times.
The graphic scene seen by millions of Filipinos on the TV evening news scandalized many of us. It was heart wrenching since after those volley of stabs and after the accused left, the teenager still stood and managed some paces while he hailed passing vehicles to bring him to the hospital.
With blood oozing from his wounds and bloodied his white polo uniform and some vital parts of his organ cut by the knife, he collapsed on the street without anybody from the kibitzers lifting a finger.
Since Bernardo and Clave who were identified by the security camera of the village casually walked from the crime scene, the police arrested the duo that followed the execution of one of them.
This kind of killing, although laudable to many Filipinos, could not continue.
The use of tit-for-tat or ngipin sa ngipin against hard core criminals like Bernardo has downside.
What if those arrested and summarily killed were just suspects and later found to be innocent?
We could not resurrect them anymore.
Although these mode of getting rid with the rising numbers of criminals made President Rodrigo Duterte famous, w
e should continue killing the criminals by Congress passing a law re-imposing the death penalty for heinous crimes like murder, rape, narcotic peddling, and others.
Congress should hammer a law that would increase the budget of the judiciary so it can create more Regional Trial Courts, try heinous crimes with speed, imposed the death sentence, and burn them in an electric chair or pin them down in a plaza with a bullet in their heart from one of the rifles of the members of the firing squad to make it as deterrence to would be criminals.
Get rid of those lethal injections son of a gun, they still look humane and make death not gruesome!
At least this is a government sanctioned killing with the benefits of due process while we avoid snuffing out the lives of innocent victims because of arbitrariness.
(You can read my selected columns at http://mortzortigoza.blogspot.com and articles at Pangasinan News Aro. You can send comments too at totomortz@yahoo.com)