By MORTZ C. ORTIGOZA
Manny Pacquiao's coach Freddie Roach said he knew how to expose the ring savvy of Floyd Mayweather, Jr. come the May 2 mega fight.
CAN HE BRAVE IT? The U.S Anti Doping Agency's random drug testing
will be a third for the Filipino world class pug Manny Pacquiao
"I learned how he works a little bit, so it's helping out with my strategy with Pacquiao quite a bit,
" he said at Wild Card Gym in California.
Roach was in the corner of then Pay Per View's King the dashing Oscar dela Hoya when he tangled in May 2007 with the then ambitious and smaller but loquacious Mayweather Jr.
He explained that when his ward dela Hoya fought Mayweather they won the first six rounds but lost to Mayweather the last six rounds.
Roach explained that split decision fight that went to Mayweather happened because Oscar stopped using his left incessant jabs and contented himself roughing out Floyd at the ropes.
Yes Virginia, that roughing and smothering strategies started from Luis Castillo in their (Mayweather) first fight in April 2002), imitated by Miguel Cotto, Victor Ortiz (with his two hands and head), and Marcus Maidana (in his first fight because their rematch, just like with Castillo, were lopsided in favor of Floyd who stick, slipped, ran, and accurately counter punched.
"
He sets traps and if you walk into the trap you'll get hit,"
Mayweather is a master counter puncher and it's clear that a focus of the camp which is extremely private compared to the past ¬ is to not give him certain openings,"Roach cited.
He explained that Pacquiao will identify when Mayweather sets the trap so the Filipino Superman - except Superman's handsome face - "
won't fall for it"
and his face, in my impression, would not be a paper target with the accurate looping left jabs and accurate counter punching of the American.
Many experts in this hurt business said the Mayweather-dela Hoya's tiff was a blue print how to defeat Floyd. They said Oscar should have won that fight.
But here's the rub!
Mayweather was the smaller guy, dela Hoya was the bigger one
When Mayweather challenged dela Hoya, the Golden Boy and then PPV king asked an onerous contract with the former.
Oscar gets 80% of the revenues, Floyd gets the measly 20%. Floyd agreed. Oscar wants to fight Floyd at Junior Middleweight (154 pounds) even Floyd had just fought Carlos Baldomir ( November 2006), Zab Judah (April 2006), and Shamba Mitchell (June 2005) at Welterweight or 147 lbs. Before Mitchelle, Floyd was fighting at 140 lbs or Lightweight.
Mayweather agreed even thought Oscar fought two years earlier Bernard Hopkins at 160 lbs.
They fought, by the way, with 10- ounce gloves not the 8- ounce Welterweight pugs wear.
Even how closed was that fight (that I scored in favor of the weaving, bobbling, shoulder rolling, snapping counter punching Mayweather), I still gave the credit to Floyd.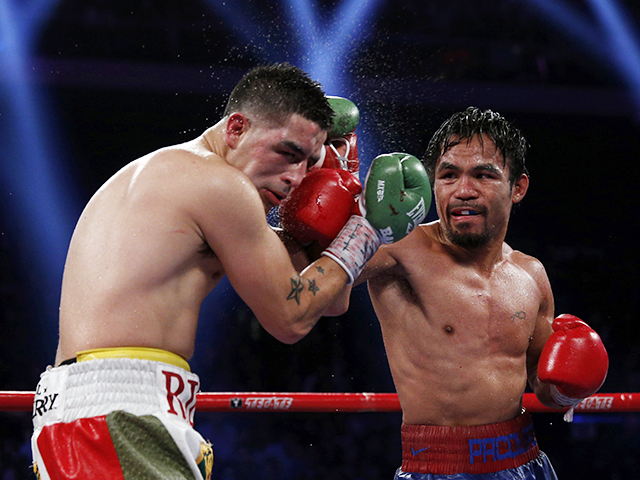 NO POWER. The first time Pacquiao submitted himself for random drug testing


was he could not knocked out Brandon Rios where the former threw every




bombs in his arsenal including the proverbial kitchen sink




and the antic aparador (wooden cabinet) of his mother Dionesia




to Rios

.
Son of a gun, he was the smaller guy there challenging the PPV king whose left jab can be converted to a power punch that knocked out the kinds of Arturo Gatti, Ricardo Mayorga, and Fernando Vargas.
The biggest fight (not necessarily the greatest fight because that would be an affront to Sugar Ray Leonard-Roberto Duran or Thomas Hearns 1 and 2, and Muhammad Ali-Joe Frazier Thrilla in Manila) in May would not be an improve version of Oscar dela Hoya just because Roach was the chief second of the Filipino. Manny Pacquiao in this fight was the smaller man pitted to a bigger boxing virtuoso who has all the guile in his sleeves.
Besides, this tussle was under the watch of the US Anti-Doping Agency (USADA) random drug testing because Floyd wants it since he was practicing it and promoting a clean sport of boxing.
The Mayweather Fight is the 3rd Random Anti Doping Test for Pacquiao
In case the huge $400 million tussle, the biggest since the Hurt Business was invented, pushes through more than a month from now, these would be the third anti-doping test for Pacquiao. His first in November 2013 was when he was pitied to a walking punching bag named Brando Rios, where Roach crowed, his usual ho-hum bravado, to all and sundry that Manny smokes him out at Round 4. In that fight Manny threw all his bombs including the proverbial kitchen sink and even the antic aparador (wooden cabinet) of his mother Dionesia that was loaded with jewelleries, bling-bling, and P1 million Hermes' bag and other bags to the unperturbed and still attacking Rios. His second random dope test was in April 2014 where he looked sluggish in chasing and punching an inferior version of a hitting and running Mayweather named Tim "the Energizer Bunny" Bradley. In short, Pacquiao could not knock out or even knocked down the duo.
His last fight in November 2014 was with Chris Algieri who was rocked by several of his flushed punches and was knocked down six times. In that fight, Manny did not submit himself for a random drug testing from either VADA or USADA or even to those administered to LAMBADA dancers in some ghettos in California.
HERE'S MY PUSHER, er, POSER
: Had the random testing played a role on the marginalization of Manny Pacquiao once feared power punches on his Rios and Bradley matches? What will happen in case he faces Mayweather who was used to fight with random drug test while Pacquiao will be fighting with only three random drug tests on his sleeves?
This is a fight, anyway, we called in politics or economics as
ceterus paribus
(other things being equal) where both clash without any suspicion one had injected or digested any PEDS in their body. Exciting, isn't it?
(You can read my selected columns at http://mortzortigoza.blogspot.com and articles at Pangasinan News Aro. You can send comments too at totomortz@yahoo.com)